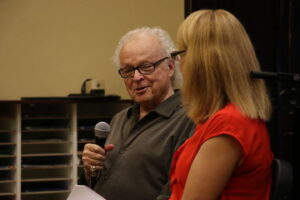 By Dianne Frances D. Powell
A gifted all-around musician who has an impressive list of hit records with some of music's biggest names shared some words of wisdom with students at Saint Mary-of-the-Woods College during his visit Oct. 1-3.
"Never let that fire in your belly go out," Ron Oates told music and music therapy students during an event in the Conservatory of Music building. Oates, the musician behind multiple gold and platinum albums,  gave the students a realistic view of the music industry but asked them not to be discouraged.
"The most prevalent answer in the music industry is no," he said. "But you can't let all those no's destroy that fire in your belly because you don't know what morning you'll wake up and the door is open."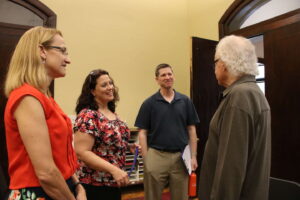 "Invariably, the yes comes along …and it changes your life," he said.
A nearly 50-year veteran of the Nashville music industry, Oates has played piano on hundreds of hit records between 1970 to 1990 and has worked with artists like Dolly Parton, The Oak Ridge Boys, Olivia Newton John and Gladys Knight.
His musical mark is behind America's famous commercials such as Wendy's "Where's The Beef?" and jingles for Kraft, Miller Beer, McDonalds, Burger King, RC Cola (Me and my RC), 7-UP, among many others.
According to the Nashville Musicians website, "his film credits include 'Best Little Whorehouse in Texas,' 'Nine To Five,' 'Sesame Street – Follow That Bird,' (which won a Grammy in 1985 for best children's album) and the themes from 'The Exterminator' and 'The Buddy System' (entitled "Here's That Rainy Day," performed by Gladys Knight)."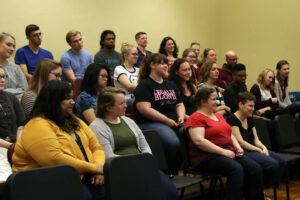 On Oct. 2, the songwriter, session pianist/keyboardist, arranger and producer answered students' questions submitted in advance to Tracy Richardson, Ph.D., chairperson of the music and theatre department. He spoke about his musical training, his time in the U.S. Navy Band,  and his move to Nashville where he caught his first big break. Richardson says Oates' focus in recent years has been on artist development.
He told the students of the importance of establishing relationships in the music business and protecting one's credibility. "You get known by people with whom you hang. Credibility in this business is everything."
Oates also gave advice to students intending to pursue specific careers in the music industry. For example, he said a college degree and an internship are necessary for students wishing to become a sound engineer. Studio experience is important, he added. The SMWC music and theatre department offers music technology classes.
During his time at The Woods, Oates also spoke to students in songwriting classes. Richardson says Oates' visit was an opportunity for students to understand his journey and learn about the music industry. She met Oates at a songwriting conference in Nashville. Both are piano players.
"Thanks so much for inviting me to come speak to the students! It was a marvelous time, and I hope to do it again sooner than later," Oates wrote on SMWC Music and Theatre Department's Facebook page.